Overview
First Impressions
Specification
What's In The Box
Summary And Verdict
Related Items
Garmin have a device for pretty much every occasion but with advances in technology and the demands of our frenetic lifestyles , more and more we're looking for that "under one roof" solution.  Garmin are no exception to this rule and have a wide range of wrist worn devices which GPS enabled and more.
The Garmin Tactix, which is a robust and versatile ABC watch, offers a great deal more than the standard Altimeter, Barometer and Compass
There are myriad of options when its comes to GPS functionality these days from the humble mobile phone to handheld GPS devices and in this case, a GPS enabled watch with ABC capability.
An issue we've discussed in the past with Smartphones being used for GPS purposes is that when your scrambling up the side of mountain or traversing between peaks, the location dot has a tendency to appear in several locations on the screen, at any one time.  This is due a much weaker receiver than purpose built behemoths such as this.
The Tactix has a high sensitivity GPS receiver to provide a very reliable GPS coverage when you need it, without waving the device like you're hailing a cab.
Excellence does come at a price and the overriding benefit is that fact you'll have a one-stop shop for your outdoor pursuits.  For that, I think multifunctional watches speak for themselves….
The Tactix is also an ABC watch equipped with ABC sensors (altimeter, barometer and compass) to provide accurate and relevant information when on the move whatever the terrain. The built-in altimeter provides elevation data to accurately monitor ascent and descent, while the barometer can be used to predict weather changes by showing short-term trends in air pressure. The 3-axis electronic compass keeps your bearing whether you're moving or stationary. You can get an even more accurate temperature reading but this will require the addition of an Tempe external sensor which retail at around £25.
The Tactix can also be used a training aid and can provide real-time performance data, such as distance, pace, cadence and calories, helping you keep track of your progress during and after your workout. You again will need an external heart rate monitor strap to fully utilise this capability which retails at around £50.
The Tactix lets you create routes, record up to 1,000 waypoints and record GPS breadcrumb trails on the move (tracklogs). It will navigate to coordinates, along a track or route, toward waypoints or along any other selected bearing. The TracBack function guides you back along a previously recorded tracklog so you can easily find your way to the campsite, trailhead or safety of a vehicle, even in the most challenging conditions. You can also plan trips and share adventures with friends and family using BaseCamp™ and BaseCamp Mobile.
The Tactix is equipped with both ANT+™ capabilities and Bluetooth® to wirelessly share tracks, waypoints and routes with other compatible Garmin devices or smartphones if you see fit.
It's fair to say the Tactix is built like a tank, combining a strong outer housing capable of withstanding a fair amount of abuse with a touch scratch resistant mineral glass lens.
It boasts a large LCD display with a green LED backlight and a robust polyurethane wristband.
It's waterproof to 50 meters and has a battery life of up to 50 hours – in GPS mode (setting depeandant) – and up to 5 weeks in watch mode.   The Tactix includes sun/moon information and a hunt/fish calendar in addition to basic watch functions such as alarms, tones, vibration alerts, a timer, stopwatch and world clock with the ability to display several times zones at once. It even allows you to control our VIRB™ and VIRB Elite™ action cameras.
Oh yes….it even tells the time…nice!
We will be carrying on the test of the Garmin Tactix over the coming months in more detail and situations, refer to the "First Impressions" tab for further information or visit the Garmin website for more details.
Over the past 12 months I have had the pleasure of testing the Garmin GPSMAP 62S and currently have the 64S version, but for the purposes of this review I am looking at the wrist mounted bundle of joy that is Garmin Tactix watch.
There are a number of these GPS watches on the market today, so how will the Tactix match up to them and against the more dedicated handheld variety?
It is always worth taking a sideways glance at the competition as these devices require heavy financial investment; you need to be certain you get the right model to fit your needs.
I'm always telling people that planning is the best way to ensuring you have an enjoyable and successful day out; whatever you're doing.  Being an an advocate of pre-planning trips, taking a map and a compass whenever you're venturing out into the great outdoors is essential; a tried and tested method still used today.  I honestly believe there is no substitute for mountain craft and navigation skills and this should be your baseline against which everything else is measured.  The Tactix watch from Garmin is an excellent multifunctional aid that could well make your life much easier, providing a wealth of additional data… as well as looking mighty fine I hasten to add.
In Detail
I have never been a huge fan of wearing watches over the years, so when I was given the opportunity to test and review the Garmin Tactix watch I have to admit to being less than enthused. When unboxing I was struck by just how substantial this thing is; not so much brick like but robust and reassuring.  Its appearance engenders purpose, capability and quality.  Closure inspection servers to underline these characteristics, even the operating buttons have grip on them
and the mineral glass screen really does sparkle under light.
The robust polyurethane wristband suits the watch really well and there would be no requirement to change the strap for anything else.
It also has a large LED display and green backlight which doesn't dazzle but provides just the right amount of illumination to see all the detail you need.
I can honestly say that my early trepidation of actually having a watch strapped to my wrist 24/7 misplaced, as after only a few hours it had started to grow on me.  It's reassuringly weighty without being cumbersome and although it's genuinely quite large in its dimensions, never seems to get in the way; and I've worn the Tactix at every opportunity, my new best friend of every day carry.
The Tactix has high-sensitivity GPS positioning with automatic calibrating altimeter, barometer and 3-axis compass so your covered whatever your outdoors needs are, and with water rating of 5 ATM it's able to withstand pressure equivalent to a depth of 50M
The buttons (and ABC sensors) are located on either side of the shoulders and provide sure and distinct operation
On the rear of the watch the quality and robust nature continues, with the addition of a 4-point USB connection which can be used to charging and downloading tracks, waypoints and training data.
The nifty little USB charging / data cable fits with a pleasing 'snap' when in place
When you start to delve into the detail of what the Tactix is capable of, it's quite breathtaking that something so small can provide so much in terms of functionality.  This does generally come at a price however, as most of the additional functionality requires the purchase of optional accessories.  On a positive note, if you're the sort of personal who enjoys a mixture of outdoor pursuits the Tactix offers a great deal for a one-off investment
Not to mention those throw away "standard" features we all come to expect these days
In the limited time we've got to know the Tactix Tactical Training Watch it's really grown on use.  Brimming with features in a neat little package (dependent upon how big your wrists are!) the Tactix becomes an extension of you and has a great deal to offer for all your pursuits.
Visit the Garmin website for more details.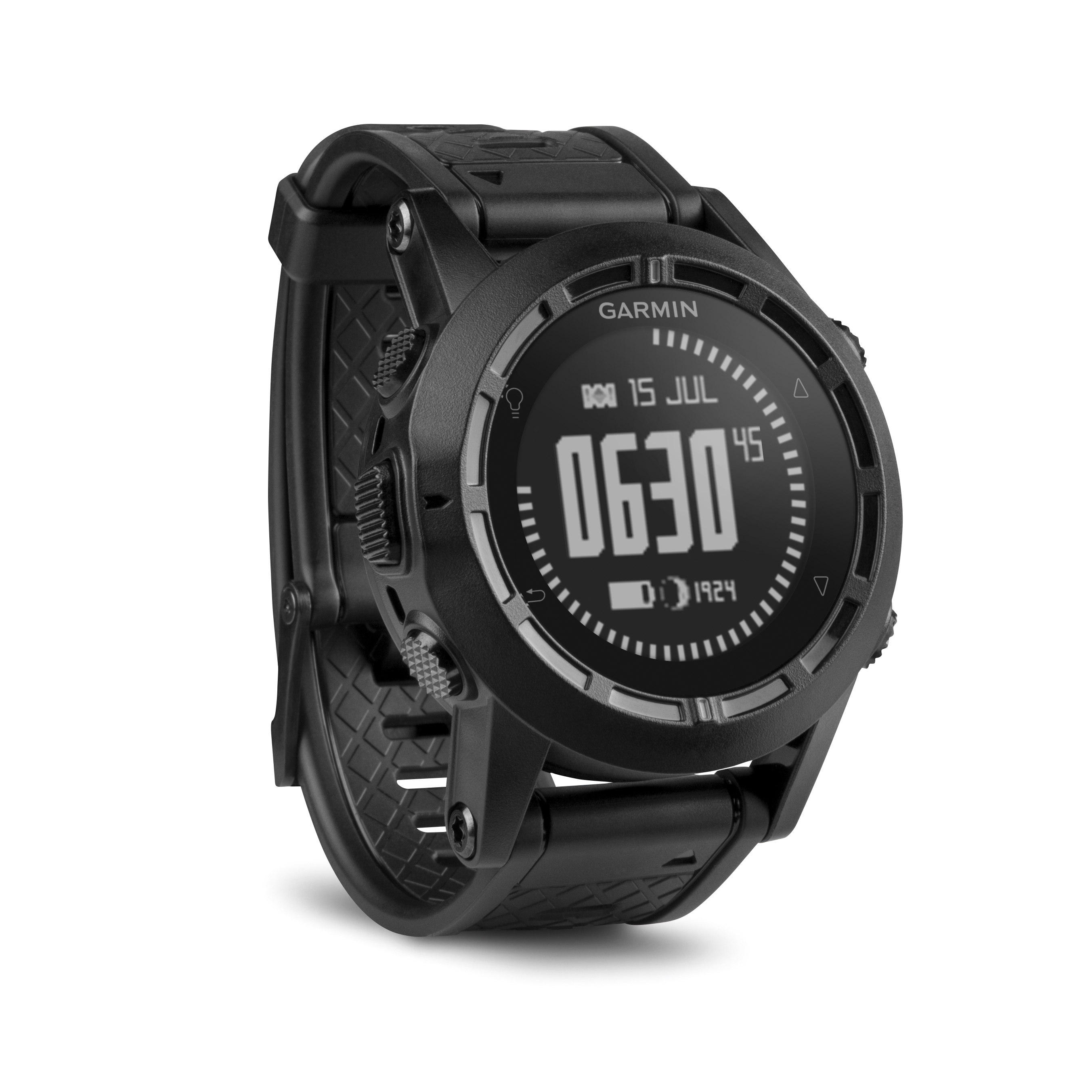 Physical & Performance:

Physical dimensions
4.9 x 4.9 x 1.7 cm
Display size, WxH
1.2" (3.1 cm) diameter
Display resolution, WxH
70 x 70 pixels
Touchscreen
No
Color display
No
Negative mode display
Yes
Weight
82 g
Battery
Rechargeable lithium-ion
Battery life
Up to 50 hours (GPS mode); 3 weeks (sensor mode); 5 weeks (watch mode)
Water rating
5 ATM
GPS-enabled
Yes
GLONASS
No
High-sensitivity receiver
Yes
Barometric altimeter
Yes
Electronic compass
Yes (tilt-compensated 3-axis)
Smart notifications (displays email, text and other alerts when paired with your compatible phone)
Yes
Vibration alert
Yes
Music control
No
Find my phone
No
Watch functions
Time, date, alarm, timer, chronograph, chimes and vibration
Maps & Memory:

Built-in memory
20 MB
Full Color CourseView Maps
No
Waypoints/favorites/locations
1000
Routes
50
Track log
10,000 points, 100 saved tracks
Having had my concerns initially I can say with hand on heart the Tactix Tactical Training Watch Garmin has really grown on me.
I think its important to remember that this is a different device to the handheld map systems Garmin produce, but that's not to say it doesn't offer great levels of functionality.  Not only can it be used as a very viable PlanB when on the mountains, but it's also a great training aid and provides excellent levels of performance data.
I have also started to track everything I do in my "away from hills" life as well. Its becoming a habit to track waypoints and routes when out on my bike or running around the green lanes. I also have a tendency to wear the watch every day regardless of what I am doing because if nothing else it looks good as a watch and is certainly grabs the addition of those around me.
The only downside for me personally is the cost of the additional sensors and especially the HRM strap.  To fully enjoy and reap the benefits of the Tactix experience, you need to spend a lot more on top of which is already a quite considerable sum of money.  Excellence does come at a price and the overriding benefit is that fact you'll have a one-stop shop for your outdoor pursuits.  For that, I think multifunctional watches speak for themselves.